John Koerner: COSMIC
At the Eastwood Onley Gallery, Vancouver
Reviewed by Gregg Simpson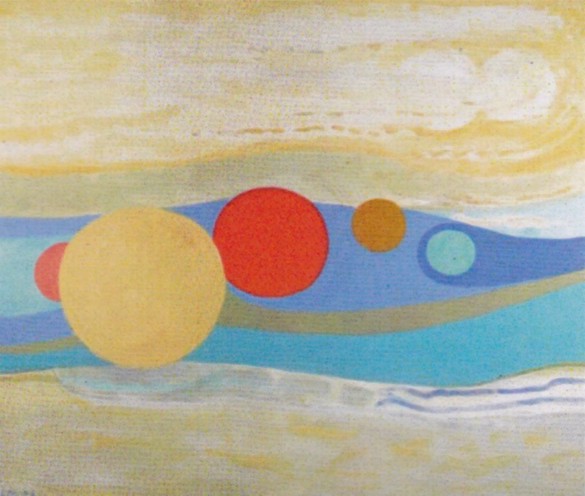 Cosmic 2
, acrylic on canvas, 52" x 60" 2009
The exhibition of colorful, energetic paintings by John Koerner at the Eastwood/Onley Gallery is a testament to the enduring practice of abstract painting.
At 96, Koerner can still outwork a lot of artists half his age. He is prolific!



John Koerner's Background
Born in Czechoslovakia, Koerner came to Canada before the War and became one of the pioneering group of artists who kick-started modern painting in Vancouver in the late 1930's and 1940's and for the next two decades. His colleagues at the newly formed Vancouver School of Art were Jack Shadbolt, B.C. Binning, and Don Jarvis among others.
John Koerner and Architecture
In 1955, my father, the late D.C. Simpson, one of the pioneering Modernist architects of Vancouver, commissioned Koerner to paint a 30-foot mural that ran though our house and out onto the terrace. For a child of seven, this mural was amazing. Koerner used hard edge geometric forms, many of which reflected the motifs my father used in the design of the house. I spent hours and hours of my childhood studying these shapes, which is why I suppose I had no choice but to become an abstract painter myself.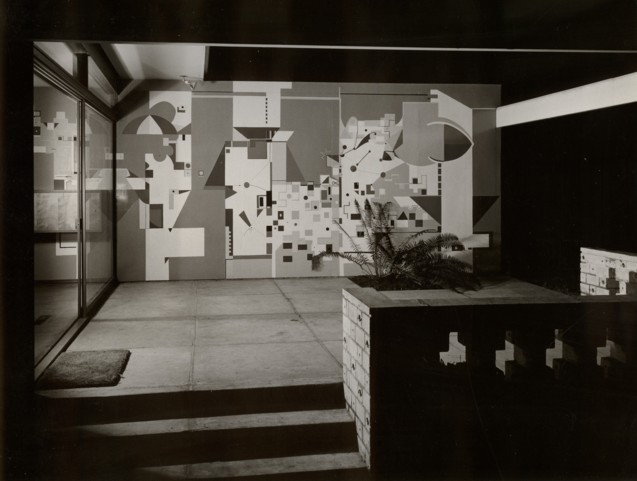 Mural at home of D.C. Simpson, West Vancouver, 1955

John Koerner's Use of Geometry
In this exhibition, Koerner's poetic use of geometry becomes the means to create a kind of metaphysical landscape. Like the late career works of his friend, L
awren Harris
, these works can best be described as 'spiritual abstraction.' The series of joyous, sublime paintings is, as the artist says," like most
of my work… a celebration."
Exhibition of Paintings
The paintings really sizzle off the walls, but in a soft, lyrical way that uses contrasting colours, infinite variations in hue, and simplified, organic forms to lead us into a personal, mystical world.
The works generally use pastel colours rather than primaries. The palette is European in its subtlety, but one which has long been acclimatized to the west coast. These paintings, like his earlier, landscape-based ones, give the feeling of glimpsing into a kind of golden paradise where the landscape sensuously yields a variety of natural and symbolic forms.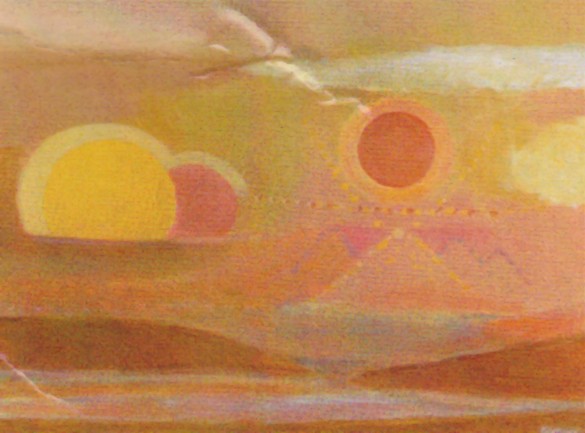 Cosmic 7
, acrylic on canvas, 30" x 40" 2009
John Koerner's Mystical Themes
Koerner takes us to a mystical realm where multi-coloured spheres float alone and in groups or issue forth from enclaves that appear simultaneously to take on both human and landscape forms. The aspect of a 'harmony of the spheres,' as Pythagoras might have described it, is present here.
The works, which range from five or six foot canvases to smaller works arranged in groups, give a feeling of serenity and balance.
Cosmic
is definitely cosmic.
Painting Today
This exhibition demonstrates that painting still has an enduring presence and validity in the art of today, and why wouldn't it? The practice goes back at least 40,000 years to the Neolithic Period. Scientists have studied many of the forms used in early cave paintings and related them directly to the patterns produced in the human brain. Undoubtedly, those early shaman-artists would relate strongly to Koerner's paintings.
Paint on canvas is still infinitely capable of transporting us to new dimensions of perception, so don't tell John Koerner to stop painting. He's still getting too much pleasure from doing it, so that we can have the pleasure of seeing the results.

Gregg Simpson: http://www.greggsimpson.com/John_Koerner_Review.html
October 26, 2009
To see more of John Koerner's work, visit his website: www.johnkoerner.com